Little Friends Mice Rodent 100cm Cage Review
At this price most people looking for a quality cage will pass over it. Sure if you spend a few hundred pounds you can get a really large cage that's well built and finished. But this Little Friends cage is deceptively good value, it's very well constructed and it a great cage.
Choosing the right cage for your mice is very important. You need to make sure you have more than enough room for them to stay healthy and happy, and have a good spot in your home for it.
Little Friends make a wide range of cages and other products for small rodents. I have owned some of their products, and they manufacture their items to a high quality. So you know you're buying into a reliable and well-designed product.
Let's take a closer look at the specifics of this cage in this Little Friends Mice Rodent 100cm Cage Review and see if it's the perfect match for you.
>>Click here to check the latest price on Amazon<<
Specifications and Features

Firstly I have to point out again that this is not a flimsy cage, it's a very well-constructed and robust product. The base is plastic, but it's very strong and deep enough for to add a layer of substrate without worrying about bits flying out all over the floor.
The wire sections of the cage are flat packed and require assembling. The sides are on hinges and just swing into place, which makes assembling this cage incredibly easy. Don't worry, you don't need any previous experience or a talent for building to get his cage up and working.
All you really need to do then is place the roof on. This has proven a little fiddly for some, but you can easily look at this as a little fun. The wire bars are coated in black, which we have to assume is non-toxic as it's designed for rodents. We all know how rodents spend their time chewing on bars, so expect a little of the coating to come off.
The door is a large flap that locks and opens easily. Even the most determined rodents are not going to figure out a way to escape, so you can sleep easy at night knowing they are secure and happy. It's easy enough to open with one hand if you're holding a mouse, so nothing to complain here.
If all of this wasn't enough, the cage comes with some accessories – which is more than can be said for a lot of other similarly priced cages. You get the following:
– Litter tray
– Huge food bowl
– Large water bottle
– Corner Shelf
– Two tubes held up with chains
The cage it pretty packed out with these accessories, so you may decide to take out any and use your own. The tubes are a nice touch though, we all know how mice love to run through tunnels and have things to do.
>>Click here to check the latest price on Amazon<<
Dimensions – 100cm x 54cm x 64cm
Pros
High quality product from a reputable brand.
Comes with plenty of accessories to get you started.
Folds up and is easy to make.
Very good value for money.
Cons
The wire coating will get chewed off.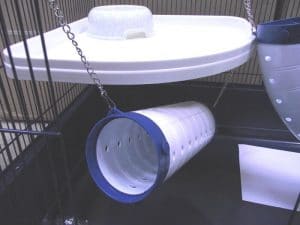 Little Friends Mice Rodent 100cm Cage Review Summary
I would recommend this cage to anyone looking to home small rodents down to the size of mice and dwarf hamsters. It's perfect for a couple of mice, and the tubes will keep them entertained, along with the ability to dig around in a good level of substrate.
The quality is outstanding, and the price is more than reasonable. I like how it has a large access door so you can easily get your hand in to place and remove your pets. It's easy to set up and will be with you for a long time, so follow the link below and take a closer look.
FAQ's
What are the dimensions of this cage?
It's 100cm wide, 64cm high and 54cm deep.
Can this cage be used with dwarf hamsters?
Yes it can. The bars are close enough together that dwarf hamsters will not escape. The tubes and other accessories are ideal too, so it's a great choice.
Is it easy to set this cage up out of the box?
Yes. It does come flat pack, but the sides fold up and fix together easily. The lid just places on top, and it takes just a few minutes.
How many mice can I keep in this cage?
I'd recommend 2-3 mice if they are already known to get on well with each other.
>>Click here to check the latest price on Amazon<<